9/27/06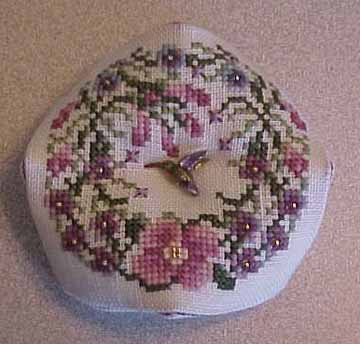 Annette posted
instructions
on how to make a biscornu, so I figured I'd give it a try. What else am I going to do with these smalls? I have enough big pieces I still haven't framed. I'm also going to get the Jeannette Douglas
My Stitching Treasures
box for Christmas (I hope), so I'll have a place to put these.
This was quick and easy. I think a square piece would have looked better, but this looks acceptable. I placed my initials and date on the bottom (MB06), one letter or number on each corner.
I have
Jump for Joy
that I could also make into a biscornu, but I need to decide how much I like the biscornu format first.
Otherwise, I've been stitching on The Awakening. I hope to finish the page this weekend, but we've been playing computer games more than usual lately.
Time waster:
Suzemo posted this very cool M&Ms game just in time for Halloween:
http://www.mms.com/us/dark/index.jsp
. I got 28, but it took me a while. (I hate horror movies because I can't stand the gore. Science fiction movies I love.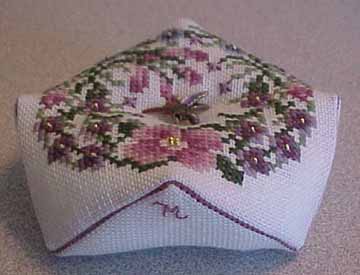 )