9/15/06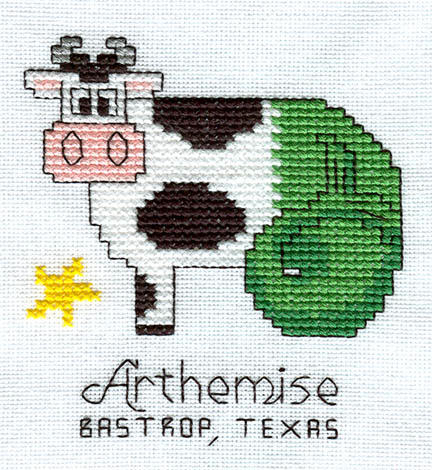 I couldn't resist stitching another French cow. I swear, I'd design tons if I let myself. I love this idea. The mer-cow, or la vache de la mer, is my own design, based on the template.
I plan to continue working on
The Awakening
this weekend.
I received my chart of HAED's The Metamorphosis. I've loved this one since I first saw it so long ago.
I also broke down and ordered Just Nan's
TrickORTreat
. I've been spending way too much money lately. I guess that makes up for all the times I went into Gingers and bought nothing.
Fraud: We discovered today that someone had stolen Matt's credit card number and subscribed to some dirty website. We've been billed $40 each month since February. Since this is the card he keeps in his desk drawer, they could have only gotten it from one of the online stores he shops at. Our home network is secure, so the person must have gotten it from the store. We've canceled the credit card, and we'll get a refund withing 48 hours. Matt got the person's IP address, so we're going to see if there's some way to prosecute the dirty scumbag who did this. I swear, I hate people sometimes. I could have gotten very angry about this, but I'm keeping myself calm.
New job:
I was supposed to hear back this week, but I haven't yet. That doesn't bode well. Oh well, I didn't want it anyway. It probably wouldn't pay much at all. Still, depressing.
Diet:
I asked the doctor for an appetite suppressant, and she gave me Meridia. Great...but I can't take any diet pills while I'm trying to get pregnant. Drat! So I have to keep trying (and failing) to do it on my own.