8/31/06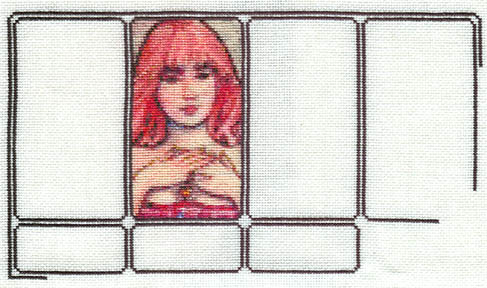 I finished my section of Angel of Love yesterday for the HAED round robin I joined. The first mailout date is early November, but I'm glad I got an early start. I also volunteered for a Just Nan RR, but I haven't heard anything about that one yet.
I like the piece, but I'm sad that the details in her fingers are lost. And the heart charm dangling from her pinkie is just a blob. That's my biggest gripe with HAEDs. You never know if they'll turn out well until after you're completely finished. They could include a color image of the stitches, but they won't. I've asked several times and been ignored. Grrr. And yes, I have had a piece turn out really bad and had to get it recharted.
It seems people like the border I've chosen. I like it too. I'm working on the middle section where I'm putting "Selena Fenech." That's kind of a pain, but I think it will be striking and give some purpose to the piece.
I still have two silk gauze kits to do, probably after I finish outlining the RR piece. I'd like to get that one out of the way and ready to mail out.
My order of Just Nans FINALLY shipped yesterday. Woohoo! Now I can see if it includes the fabric I wanted or not.
Kitten:
Hathor's doing well after her surgery. She's randomly tackling Anubis around the head, and he sometimes notices. We're watching those stitches because she pulls on them with her teeth.
Mom:
Mom was going to come visit this weekend, but with Matt still sick, I'd hate for her to catch this junk. He now has a sinus infection, probably due to his body being weak from the virus.
Doctor's office:
I saw the specialist for my liver. My doctor's office didn't send over all the blood test results, just one of them. So, he really couldn't get a good idea of what's going on, though it does look like a virus. My doctor's office said the specialist only requested the latest test results, not all of them, and they had no way of knowing. They were a little indignant that I was mad because they hadn't sent them all over. I assumed that my doctor would tell them what needed to be sent over because the specialist sure wouldn't know. That's apparently not the case, and the only one looking after me is me (and Matt). Sheesh. I just can't assume that they're doing their job. Oh, the specialist said I need to lose weight. Ya think!