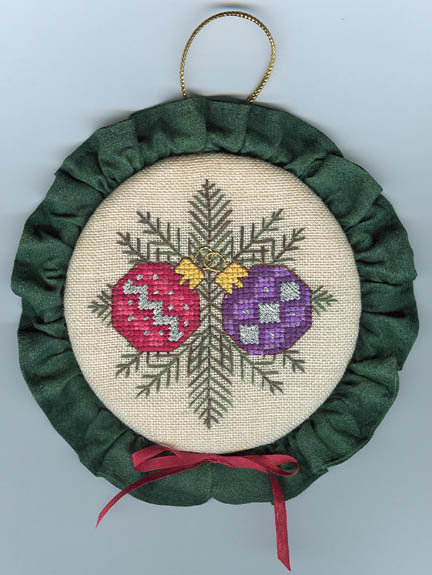 Here is my latest ornament finish, Together at Christmas by Designs by Margret Lee. It's from the 2004 JCS ornament issue. Making the trim was a challenge. I sewed it on the machine. It doesn't look just like the magazine one (since no instructions were given), but I'm satisfied with it.
I just have one ornament left to finish, and it entails making a tuck pillow (blech). I will probably wait a while on that one.
I finished the first complete page of Dragon Soul QS. I'll take a new picture once I finish the bottom left partial page.
I haven't touched TrickORTreat in a while. Eventually...
Gaming:
City of Heroes is having a Halloween event where you trick or treat at the mission doors. You can get a new costume slot on your character if you gather four costume pieces. So we've been busy doing that on our multitude of characters.