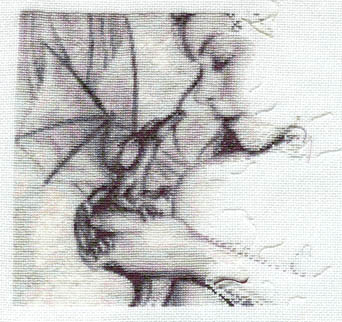 I finished the bottom left partial page today, so I'm now more than halfway done. The dragon is all done. He looks like a sweet little guy. Now I get to work on the woman's face some more, which I'm looking forward to.
This piece has a lot of sparkle. I'm afraid I've been using my good Ginghers to cut the metallic blending filament (even though I know I'm not supposed to). I definitely notice that they're not as sharp. I've had a few times where they haven't cut, just chewed a bit. Ugh, bad stitcher! I may have to get Matt to try sharpening them for me. Or I can buy a pair of Dovos and treat them right this time.
I also joined the
Chatelaine Roses and Butterflies quilt
. It looks like a lot of fun, and I of course love both roses and butterflies.
We're taking today off work as bereavement time for Matt's mom. I probably won't go back to work until Wednesday or Thursday. And of course we're eating junk food like crazy.
(Yes, yet another post. I've been double posting a lot lately with all the smalls finishes.)