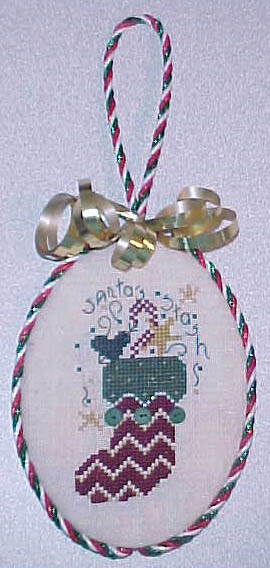 Yet another ornament finished! I wasn't planning to do one since I'm working on TrickORTreat, but after miscounting a bit on the outline, I wasn't motivated. This one was pretty easy to finish. I tried every bowl, cup, etc. I had trying to draw an oval, and then I remembered I could do one on the computer. Duh! I laced the pieces onto mat board, which worked pretty well.
Just five ornaments left to finish!
The HAED chat last night was completely civil, which was a relief. HAED said they could do a mockup for me if I'm concerned about how a piece will turn out. I might try that for my next piece, which will probably be Selina Fenech's
Pearl Princess
.
HAED also announced they're going to post a freebie tonight and have it up for only 24 hours. Exciting! Maybe it will be one I like, who knows.
TV:
Eureka plays tonight! We also watched Dr. Who last Friday. I liked the old Doctor better, grumble. Matt pointed out that the new Doctor is Barty Finch Jr. from Harry Potter. Ack!
Kitties:
Hathor got up on the wall next to the stairs twice yesterday. I was scared to death, scared to fuss her, scared to go near her, for fear she'd try jumping one and a half flights down. Matt finally squirted her with canned air, and she jumped away from the stairs.