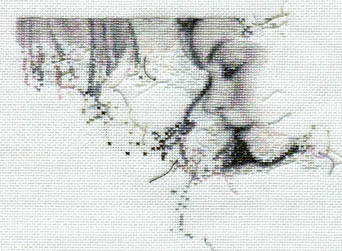 I began this piece yesterday. I took the day off work today because I just needed a break. Her face looks so sweet. This one is great because it has so few colors, but stitching white on white can be a challenge.
Yesterday I got my fabric for
Porcelain Nosegay
and the pattern for
Horrified
. Of course, the fabric for Horrified is the same called for in
Witch Way
, and I didn't keep the little scraps I had. It would have been enough. Oh well, another for the to-buy list next time I get to Ginger's.
I also got my floss from Artfabrik today for
Futurecast
. Oh, and an email that my Thread Gatherer floss is on backorder. Oh well, lots to do in the mean time! I should be getting a Just Nan RR piece in soon.