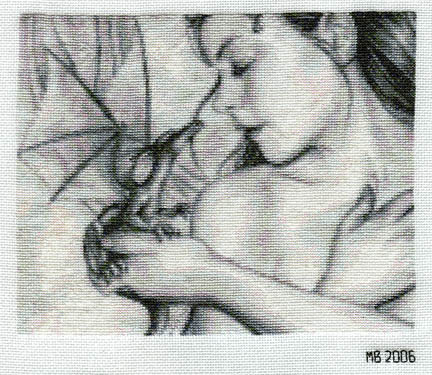 I finished it up this morning. She's full of glitter, which means stitching with blending filament, which isn't so nice. My
website
has a pic of the glitter (taken with my digital camera), a larger pic, and the specs. I'm pretty happy with her. I had to frog a few times, which always worries me (what else did I screw up and not catch?).
This makes two HAED quick stitches I've finished. Time for a new blinkie in my sig!
We watched all the Harry Potters Friday and Saturday, and then watched Das Boot last night, so I had lots of stitching time.
The search for office chairs:
Matt heard an ominous crunching coming from his secondhand office chair the other day. It looks like the back is about to fall off. So, we went to Office Max in Austin yesterday. We didn't like any of the chairs, and all they had were the cheap ones anyway. In order to be positioned correctly (my forearms level when I type), I need a chair that's very low to the ground, so that makes it even harder to find the right chair for me. Sigh. I'll try to figure out where they get the ones at work. I didn't really want to spend $1200 right now, but if it means finally getting comfortable chairs, I'll do it. We spend a great deal of time in front of the computer, so it's worth it.