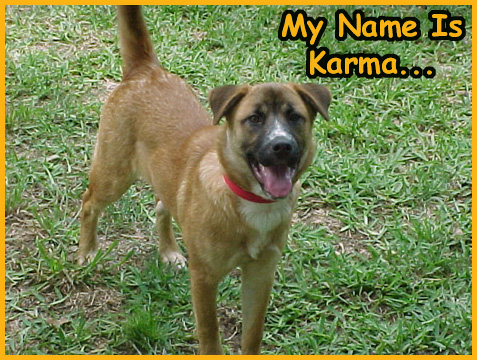 My mom called today to let me know my dog Karma passed away. My mom was closing the gate to the backyard, Karma saw a cat, and she was off. My mom followed her in her truck, but Karma was off and running. A guy in a truck hit Karma since it was dark (6:15 in the morning). My mom said Karma's back legs were broken, and bone was poking through. Mom took her to the vet, who said they could try to fix her up, but the damage was massive. I'd spend the $3,000-4,000 it would take, but she just wouldn't ever be right again. Karma was an active dog, and I don't think that would have been a good life for her. My mom did the right thing.
This is a picture of Karma when we first got her. She was such a sweet dog. She'd never hurt a person. You could take the food away from her, and she'd never even growl. My mom was taking care of her for me because she was very aggressive to other animals (she killed a cat that got in our backyard once). She had ripped up Lufy, my dog who is much bigger than her (75 pounds vs. 55 pounds), which is why we couldn't keep her anymore. My mom was so kind to take her in, and I'm sorry she had to go through all of this.
My poor Karma girl. She's waiting for me at the bridge, and I know I'll see her one day. Now she runs free in Heaven away from this painful life. Goodbye, Karma dog.