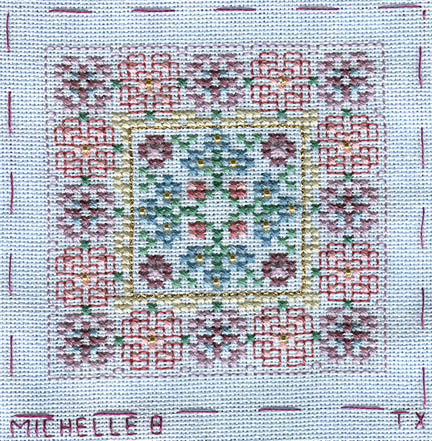 I finished Potpourri for Michelle's (artbuff) round robin. I'm missing the bee charm, which the store said they'd ship tomorrow, and the cream beads, which Ginger's will also ship probably tomorrow. Click on the pic for a better image. This was a fun stitch, and I'm glad I'm going to get it done ahead of time.
Ginger's also has my bellpull hardware for a Christmas ornament and my fabric for
Horrified
. I thought about going in on Saturday, but I'll probably just buy more stuff. Oh noes! Probably just cheaper to pay for postage.
Matt's working tonight because he needed tester time. It's lonely, but I'm getting stuff done. I thought about working on an ornament finish, but Potpourri took me longer than I thought it would. Maybe tomorrow. Now let's see if I can get to sleep tonight without him in bed....