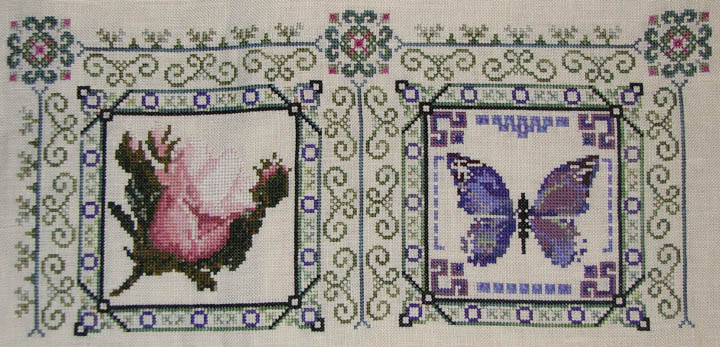 I finished the second block of my Chatelaine today, minus those fibers I'm still missing. I'll fill in the bottom border next month since there will be only one design released, not two like in January. That border can get a little tedious, but it's very pretty.
I ordered a book on how to make braiding since I can't ever seem to find cording. We'll see how that goes.
I went through some boxes of my mother-in-law's craft stuff yesterday (she passed away months ago). Unfortunately, she was a heavy smoker, and everything smells heavily of smoke. My throat and eyes were burning afterwards. There are a few items I can salvage. Can you believe that Qsnaps can smell like smoke? I washed them and left them out for a while, and I think they're OK. There's one piece that my MIL had almost finished, so I'll soak that in Orvus and then try to finish it. Her other kits weren't started, but they were taken out of the bags and such. I may offer them on one of the boards to see if another smoker wants them. They're not my style (Dimensions mostly). I just don't want to toss them because I know how heartbroken I would be if someone threw away my stash.
Gaming:
This weekend is the double experience point event on City of Heroes. That means a weekend of gaming. No time for stitching!
Diet:
I did so-so on the diet this week. I lost another 1.4 pounds in the last two weeks. Blah, but at least I didn't gain. I did actually get on the exercise bike for 10 minutes Tuesday. Any exercise is an accomplishment for me after the forced inactivity with the broken toe. Which has healed VERY crooked, by the way.