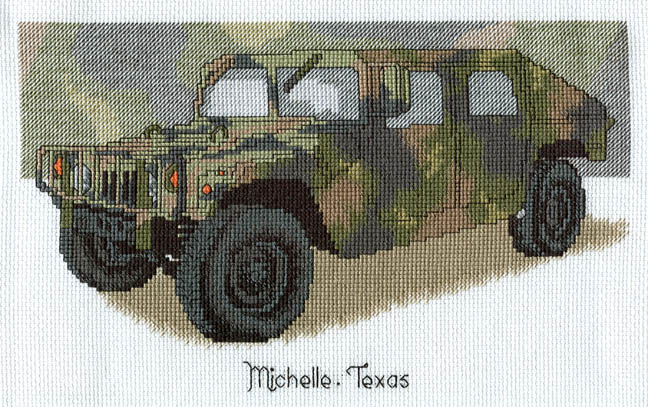 It's not the most glamorous piece, but I stitched it because I figured a little boy would like it. This is a quilt square for
Love Quilts
. The little boy is Chris A., and his theme is heroes and the army. The square is due February 1, which had me scrambling. Fortunately, we had MLK Day off and two snows days (ice days really). I kinda got sick of stitching it, but I held the carrot of working on my Chatelaine before me. That will be the next thing that I work on now that the obligation stuff is out of the way.
And yes, it took me 6 days of almost constant stitching!
Ice everywhere:
Today in Texas we thawed after a few days of being iced over. I tried to get in the car Tuesday, and my car door was iced shut! That told me that I shouldn't go anywhere. Our oak tree looked like it was split in half with all the ice pulling the branches down. Today the icicles along the eaves of the house have been crashing down, and the dog has been barking and terrified. I drove today--sheets of ice kept coming off my car and onto my windshield. Kinda cool!
Ouch:
Due to the ice storm, I couldn't get to the pharmacy to get my Nexium refilled. So today the heartburn hit me full force. Ow.