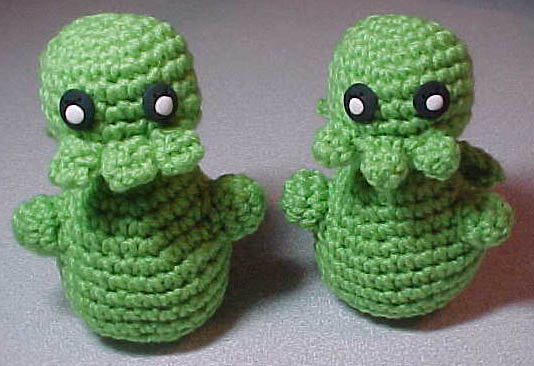 I finally broke out the polymer clay and made some eyes for the Chthulhu dolls. I have two finished and two others mostly crocheted. I wanted to crochet some Santa hats for them, but I don't have any red yarn. I may make a Wal-Mart run (hobble) tomorrow.
I have new respect for people who make polymer clay buttons. It's harder than it looks on TV. It was rather difficult to make the eyes match and look decent. And you can see my fingerprints in the clay! I also made some heart buttons, pink on the inside and purple along the edges. The purple's not a uniform width because I don't have a roller (or pasta machine) and had to form it by hand. I don't know if I'll actually use them; I made them kind of thick.
I'm still stitching on Generosity and waiting patiently for a bunch of things to come in. I did get my purple eyelash yarn to make some hedgehogs. It's so soft! I also ordered a bow maker because I'm really tired of my bows looking off. Hopefully it will actually work.