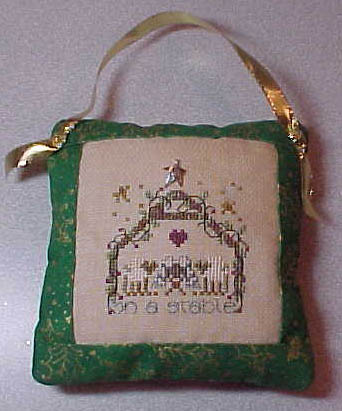 This is In a Stable by Shepherd's Bush.
I finally finished off the last of the Christmas ornaments I had stitched during the year. Major HD time! I wasn't looking forward to making a tuck pillow--not my favorite thing, for some reason. I think it looks OK. I do really like the fabric I used. The gold is a metallic, which looks good against the vibrant green.
So what to work on next... I've almost finished my December goals, except for finishing up TrickORTreat, which I don't feel like working on. I'm sure I'll find something.
Vandals:
Matt found that the vandals who struck Friday also cut up our outside extension cord. He's going to have to get another one at the store tomorrow. The electric company came out today to fix the street light, but they have to come back tomorrow with parts. Now that's service! I'm going to order a surveillance camera just as soon as I find the right one.