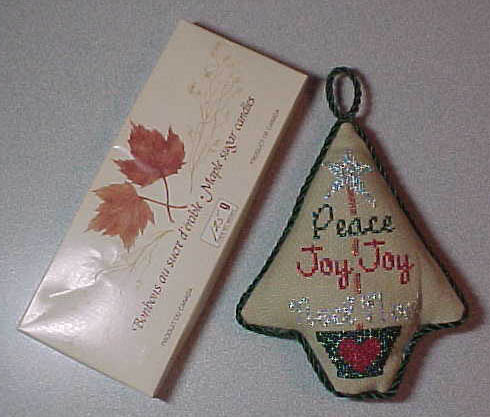 I received my exchange package from Leah yesterday! The exchange is from the
Needle and Thread Bulletin Board
. She said the piece is from the Cross Stitch Christmas 2002 magazine. It's stitched all in metallic braid and is really bright. I hate stitching in metallics, so I know the work that went into it! It's very cute, and I love it.
The candies are made of maple sugar. Matt is from Ohio, so he loved these. They were nice and crunchy on the outside and soft and smooth on the inside. I say "were" because the box is mostly empty now. I'm saving the rest for Matt. He'd better eat them soon!
I also received my package of 30 blocks of Sculpey clay. I'm almost afraid to open them because they're so neatly packaged.
Strange dream:
I had a very disturbing dream last night. I dreamed that I was working on a few round robins, and I made a mistake or two. Then someone showed me that I had stitched "county" as "couty." She was very angry, and I said I would withdraw from the round robins. Now I've never made a mistake on an actual round robin that I know of, so this was very disturbing! I felt so bad! I guess it could have something to do with work issues (something where I didn't do what they were looking for). I was feeling very inadequate yesterday, so this all got jumbled up in my brain apparently.