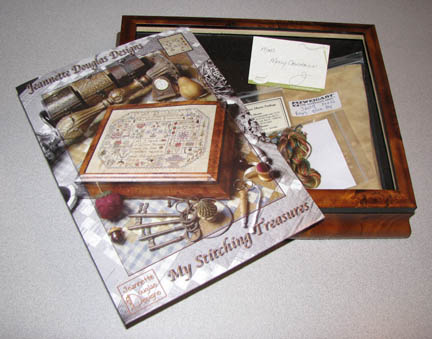 So I got a nice haul from Matt yesterday! I did indeed get the complete kit of My Stitching Treasures by Jeanette Douglas. I have been wanting this since I saw someone stitching it at last year's stitching camp. That box is a nice chunk of change, so I didn't want to just go out and buy it. It's just as beautiful as I remember!
Sneaky Matt actually wrote to Jeanette and enlisted her help in getting me all the correct supplies. All he had to do was pay for it, and she even arranged to get the box shipped to him! She sent him that little card saying "Matt, Merry Christmas."
You can bet I will be starting this one soon!
He also got me tons of CDs, more than I thought he would. I now have lots of '80s music to listen to. And he bought a very funny book called
Eats, Shoots & Leaves
, a book about the hazards of misusing commas. As an editor, I can appreciate this! The panda eats, shoots & leaves. Ow! Much different from eating shoots and leaves.
I decided to open my birthday present early since he said I'd then have more vacation time to enjoy it. I'm so glad I did. He bought me a new digital camera! I guess he got tired of my complaining about my old non-megapixel one that wouldn't hold a charge for more than a few seconds. The new one is a Canon Powershot S3 IS 6.0 megapixel camera. I'd link it, but I really don't want to know how much it cost. The pictures are lovely, as you can see. It has a nice zoom and flash, and can take little movies. I'm sure we'll have tons of movies of our pets soon.
Mom drove back to Louisiana yesterday. Matt and I had a quiet day home alone, watching the live action version of
The Tick
(one of his Christmas presents). We also played a little City of Heroes. Matt expected a call from his dad and uncle yesterday, but they never called. Surprising since it was his first Christmas without his mother.
I also stitched on The Awakening yesterday. Today I need to start working on cleaning up some clutter. We have a friend coming in to town tomorrow, and he's staying with us for a few days. At least Mom cleaned the house while she was here. :-)
Oh, and we'll probably get the TV in tomorrow!!!
I hope you all had a good Christmas. I'm just glad no one wound up in the ER!
Vandals:
We did get in the surveillance camera, but it will not record hours of footage. It emails clips to you. Since lots of stuff moves in our front yard, setting up the motion sensor really wouldn't work. We're still trying to figure out what to do. Since it had been raining a lot, up to yesterday at lunch, we didn't have any trouble with them.
Dog:
For some reason Lufy chewed a hole in one of Matt's shirts that was on the floor of the bedroom (a new one, of course). We let her sleep with us when it's cold or wet. We wondered why we had to put her out in the middle of the night to go hack! She also got very gassy yesterday, we think from ham scraps. She won't be getting those anymore. My poor girl's getting old.