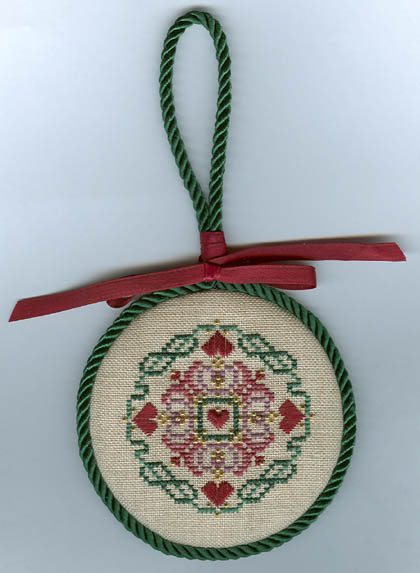 Leah received my package for the Christmas exchange, so I can finally reveal what I stitched! This is Just Nan's Christmas Hearts. It's a freebie pattern, but I do like it a lot. I must have stitched that middle heart five times to get it right. I may have to stitch another one for myself--only this time get it right the first time!
I think I should have used a more glamorous bow. And maybe I'll start taking pictures with a little more interesting background like I've seen on a few blogs. That might mean getting a better digital camera (and one that holds a charge for more than 5 seconds). Hm...
I also stitched Santa Keeper scissor fob from Drawn Thread, another freebie. This is the mystery item that I used the fuzzy stuff on. I finally took a pin and scraped it across each stitch. That sure fuzzed it up. I've also seen a wire brush on a store website, but I don't know if it's worth the investment. This is one I definitely want to stitch for myself, even though I don't use fobs on my scissors. Not bad for my first stitched fob!
In her package I also sent a variety of pecan candies from a local place, a University of Texas coaster for your car, and a Don't Mess with Texas magnet.
In other stitching news, I got my stuff and started working on my birthday exchange piece. It wasn't quite what I was expecting, but I improvised. More on that later.