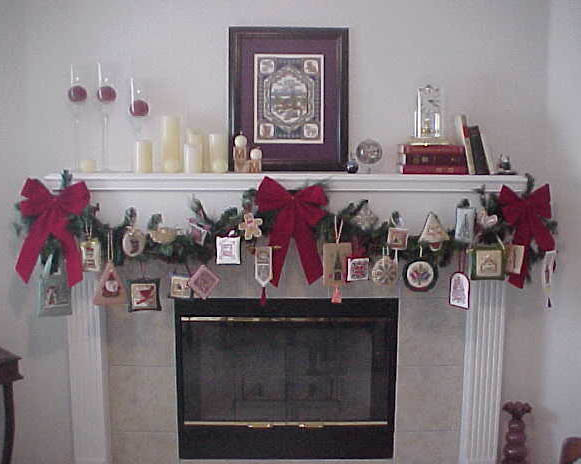 Yesterday I bought some 3M hooks and put up my Christmas garland and ornaments. I prefer to have more uniform ornaments on the tree itself, which we haven't put up yet. I'm just thinking that if I stitch anymore ornaments next year, I won't have any place to put them.
I'm also waiting for the whole thing to fall off the mantle....
I'm working on an exchange piece right now. I ordered the chart and fabric but didn't know that the chart was 4 threads over two, and the fabric was 20 count. Bleh! Instead I'm doing it 2 over 1. I think it's OK, but I'm still stressing about it. I guess I won't be convinced until I see the finished product.
Computer stuff:
Matt's taking today off as a sanity day. He got in new parts for his computer and will work on that. Hopefully that will fix his problems. The guys are supposed to come over for some gaming Saturday.
We're also going to Best Buy Sunday to look at HD TVs. Yippee! We've put off buying a new television for a while now.
My toe:
I went to the doctor yesterday, and the broken toe is healing. It's going to be crooked, though, which feels really weird because it pushes up against the other toe. My only alternative is to have surgery so they can put a pin in it. I don't think so. There goes my foot modeling career!
Rotten kids:
The kids were playing basketball in the circle again last night, after I so kindly got the city to fix the burnt street light. I need to find out the time for the curfew and the noise ordinance. I used to know it but can't remember. Fortunately they had stopped by the time we were ready to go to bed. I swear, I'm going to call the cops if they don't. I'd talk to their parents, but they don't seem to be the type to care, and I get so nervous and stuttery during confrontation. I guess I'm out of practice. I used to verbally fight all the time with my dad and ex, but that was a long time ago, fortunately.
Matt doesn't think we should buy a surveillance camera since we're hoping to move in the spring. Ugh. I really want to catch the scumbags that cut my Christmas lights. We're also having to pick up every single package from the post office because the rotten kids have broken off the keys in the package lockers. The camera won't fix that because the mailbox is pretty far away (that's another rant).