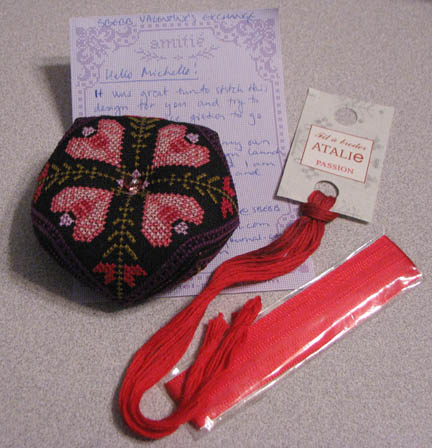 Look what I got from
Outi
! She designed it herself. I never connected her to
Periphaeria Designs
, but that's her! Her stitches are so nicely railroaded, and the biscornu is stuffed so firmly. Excellent work on her part.
I love the reds of the floss and ribbon. I need to figure out what to stitch with them. She also sent two terra cotta hearts, but the post office crushed them to shards. Typical.
I finished my Bountiful Acorns needleroll, and I'll post pics as soon as I get the ribbon my mom is sending me. I wound up ordering the other Sweetheart Tree needlerolls I could find. I'm addicted to needlerolls at the moment. I also took out HAED's Eternal Promise and put a few stitched into it.
The crud: I've come down with a sinus infection, so I'm in bed for the most part. At least I had Robin Hobb's book Forest Mage to read. I have a few other books to read, fortunately. Poor Matt. I of course got sick on double-xp weekend on City of Heroes (a computer game we play). I know he really wanted to play this weekend, but he didn't complain when he had to take care of both me and the boy. At least I found out it isn't strepp. So far Logan doesn't have it. I'm thinking I caught it at the doctor's office when I brought him for shots last week. Argh. I haven't really gone anywhere else. Just when I was trying to build up some sick leave...