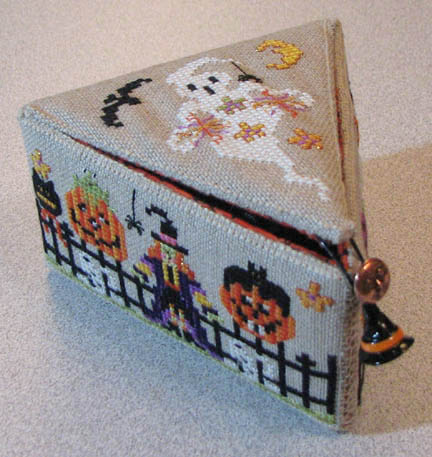 I can't really call this one a happy dance. I hated doing the finishing on it. Nothing was just right, and I fought with the thing the whole time. If I hadn't paid so much for it, it would have gone in the trash long ago. Today while Logan was sleeping in his swing, I bit the bullet and finished the finishing. The corners started fraying, and the top is sort of buckled when the lid is closed. I really have to stretch the fastener to get it closed, too. I don't even want to look at the thing because it's not finished the way I want it to be. I guess I'll stick it in a box somewhere. How annoying. More pics on my
website
.
I think that's why I like cross stitching. There's nothing subjective about it, unlike sewing and other crafts. It's either right or it's not, period.
And I will not buy another one of these Just Nan kits. I need to keep repeating that....
Baby:
Oh, and Logan slept all night last night. He's still having some ear pain, but the medicine works.