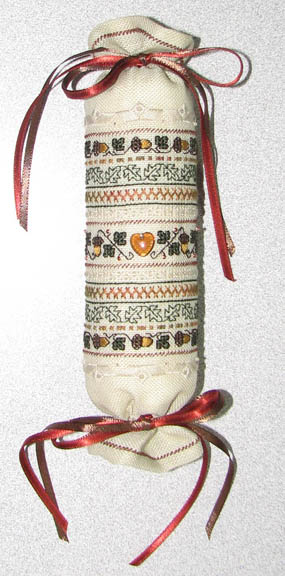 I wanted to get some rust ribbon to go with the brown, but I'm having to order it. So here it is with just the brown ribbon so far (edit: replaced the pic). I really like this piece, and I want to do the other Sweetheart Tree needlerolls too eventually.
I acquired this chart from
Andrea
after she finished hers. I blame her for getting me hooked. ;-) I saw the one she did in her blog and just fell in love.
I still have the Olde English needleroll all kitted up and waiting to be stitched. I'm going to savor it because these go pretty fast. I'm still plugging away on HAED's Eternal Promise; I haven't even finish the first row yet.
The sick:
I'm getting over my sinus infection, but I still feel pretty rotten. Matt's feeling a little sick, and Logan's been giving a few little coughs. We might take him to the doctor tomorrow; he doesn't seem that bad yet, but you know what happens on the weekends.