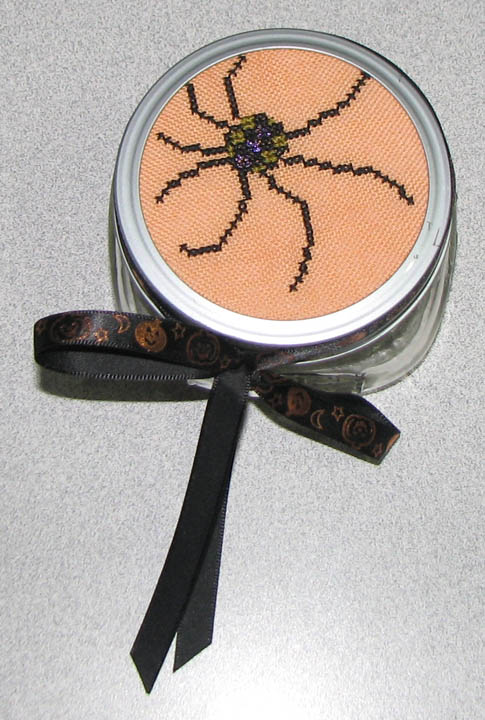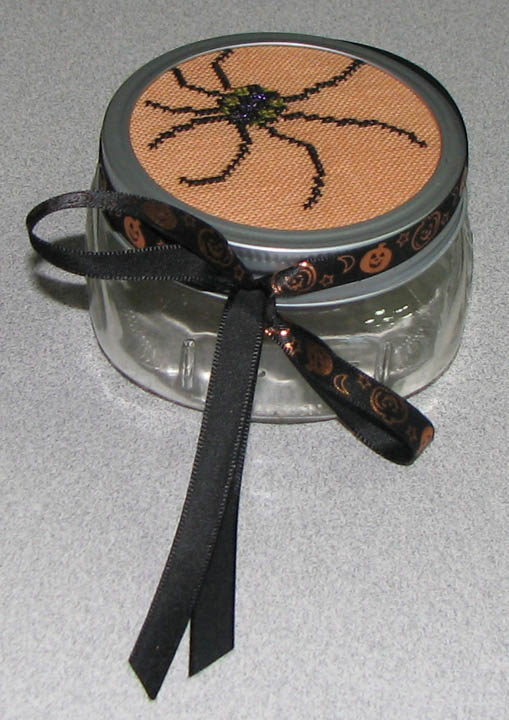 Cherylann came over this past Sunday, and we worked on some finishing projects while the husbands played Left 4 Dead (a zombie computer game Matt loves but I find gross). One of the things we finished was this neato spider! And it's mine! What's really strange is that I hate the color orange but really love it on fall or Halloween pieces. In this case, I love it. Isn't it awesome?
So I of course had to show her all my stash, WIPs, and finished pieces (many of them sadly unframed). I kept finding stuff all over the house. Since my sewing room was converted into Logan's room, I've had to store my stuff all over the place.
We also decided to do a Teresa Wentzler's Autumn Fairy stitch-along once we finish our current projects (a Sweetheart Tree needleroll for me). Anyone want to join us? I'm going to do mine on 28-count antique white Jobelan, but I don't have enough for all four fairies. I think I'm going to have to go to the LNS and see if my color of fabric matches what they have in stock for my fourth piece. I plan to do all four someday, and and I definitely want the fabric to match.
Another obsession:
I ordered two books: one on gingerbread house decorating and
Embroidered Knot Gardens
. I'm in the building mood. I've always had dreams (the sleeping kind) of huge, neverending houses that belong to me but I somehow have never explored. Hm, maybe I should have been an architect....