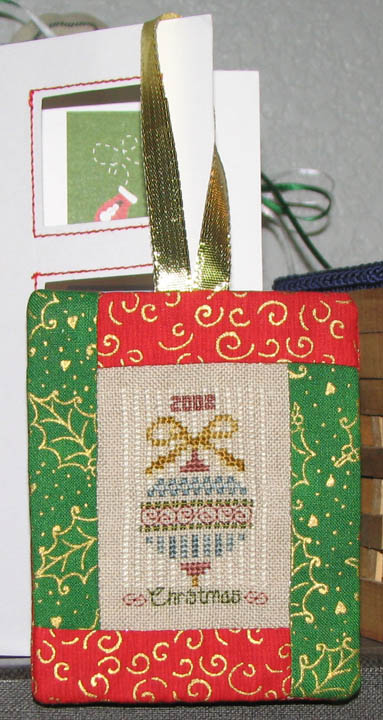 I completed this ornament today. It's taken me a while to figure out just how I wanted to do it. The fabric is a little bright for the piece, but it just felt right when I put it together. It's not stuffed, just quilted around the piece in gold thread. With all the layers (fabric pieces and interfacing), it's pretty sturdy. I still have the other one to do, but I'm in no rush.
The piece itself was a little off-square. I think when I stitched it, it wasn't properly aligned in the Qsnaps. It's sometimes hard with a tiny piece of fabric. I really need to be more careful about that. Sometimes I just plop the fabric in there any old way.
As for the finishing stitching, I just need to realize that sewing on the machine will not be perfect. Unless I buy an expensive foot (if they make one for my machine), where the needle goes will never be exact. Machine stitching is so different from hand stitching. My mom tells me that quilters like the puckering of the fabric caused by quilting. Cross stitchers definitely don't!