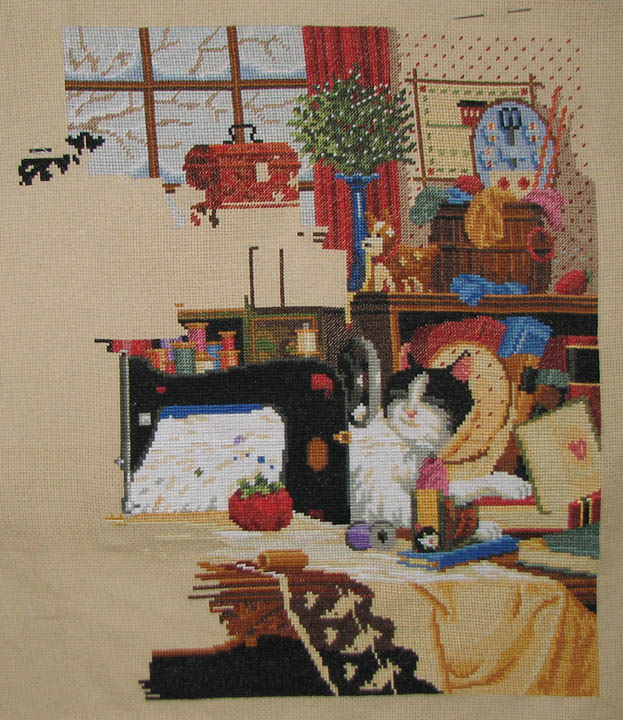 Last night as we watched
Stargate: Atlantis
and
Sanctuary
, I pulled out the stand and worked on this piece. I do that whenever I get a chance. Logan is now letting me stitch in his presence (thankfully), and I can usually convince him to leave my supplies alone. The stand, however, is another story. He loves unscrewing the knobs and does so constantly when I let him. So, the stand only comes out when he's in bed. I managed to finish up the windows and work on the box just under it. A bit more and I'll be halfway done. These Dimension pieces just take forever. TWs are a breeze compared to this!
Speaking of, I did start on Teresa Wentzler's Autumn Faerie. I've got a fair amount of the border done. I'll probably post a progress pic Sunday. I really like working on this piece. It's big enough to be a good TW and small enough to put on my Qsnaps.
Also, I received my books on gingerbread houses and embroidered knot gardens. The gingerbread book was underwhelming; I think it had one house that I'd actually like to build. But at least it gives directions on how to make one. I plan to try it when I have a chance. The embroidered knot garden book is fascinating. It looks like I may need to take up yet another hobby. I've never done some of the stitching the book discusses, but it looks like something I can handle. I just need to figure out what kind of garden inspires me.
Oh, by the way, no, we didn't get any snow. Towns near us did, but we missed out. Darn it.