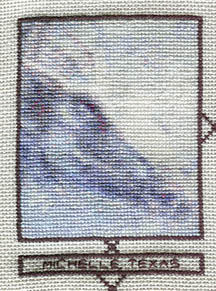 I received Terri's round robin piece early and got it done just in time. This is the dragon from Reone Silver Dragon by Linda Tso. Again, click on the pic for a better image. And this completes the HAED RRs I'm stitching on!
I had worried that the dragon wouldn't show up at all, but I'm satisfied with it. I would have liked a little more definition, but the original artwork is like this too. This is one of my favorite dragons.
I woke at 3 a.m., and after dreaming about stitching on the piece, I gave up and did just that. Not only am I sleeping at all odd hours of the day, the cat decides to howl at about 4 a.m. every morning. I don't know what his deal is. He gets his food from the dispenser, so he's not howling for food. Attention maybe? Whatever it is, he's driving us up the wall.