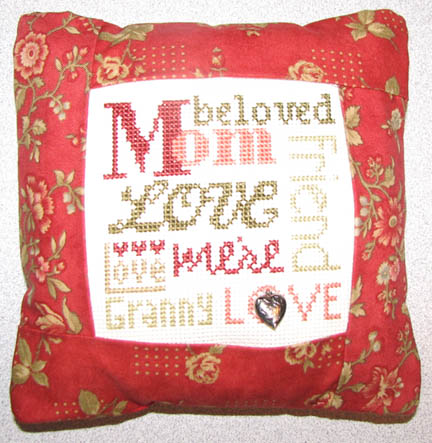 Mom is visiting for the long Labor Day weekend, so I was able to give her the little present I had made for her a while back. This is Thoughts of Mom by Pine Mountain Designs. I bought the pillow and kit at a stitching retreat several months back. I changed the pattern to add "granny."
Mom will also help me with the finishing of my Harvest exchange piece. Convenient timing! :-)
Baby stuff:
Mom's friends had a baby shower for her, so I received the presents today. I'm overwhelmed! I do have more newborn clothes than I need, so some things may get returned for larger sizes.
Rant:
Apparently if an item is over $25 and you don't have a receipt, Target won't even give you store credit. And if a gift was ordered online, you have to mail it back, not return it to the store. What a major pain! I'm going to have to rethink shopping there.