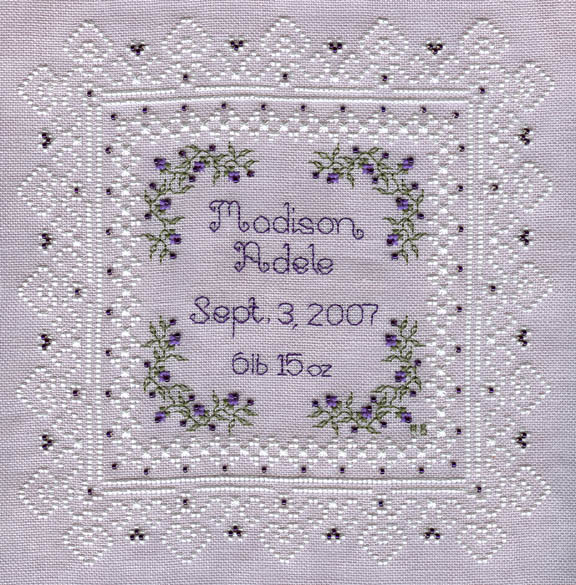 This one's not for me...it's for a friend that just had a baby. I hope she likes it. I need to bring it in to be framed...not sure when, though. The chart is called Baby's Keepsake Treasures and Birth Sampler by Patricia Ann Designs. Click the pic; Blogger doesn't like my scanner pics. All of those white stitches are smyrna crosses or rhodes stitches.
I didn't plan to finish this one this soon, but I'm getting bored. My sciatica is flaring up, and there's so little I can do at this point.
Baby update: Mom arrived yesterday. We're still scheduled for the induced labor Tuesday. I went in to the doctor Friday. He did a stress test again, and the baby was sound asleep (they want to check his heartbeat when he moves). After half an hour flat on my back, I told them I'd had enough. My back was killing me. Then the doctor had to check my cervix, which entailed him feeling inside and pushing down on my belly. I couldn't help but cry out because it was pure agony. I'm especially sensitive in that area. He couldn't tell how my cervix was doing, but we're still going to try induction. It may or may not work. Great. He then did an ultrasound to see how big the baby is, and he said 7 pounds, but the estimate is very rough. Fortunately Matt had come with me to the appointment and helped calm me down and get me back into the truck. I'm trying not to think about labor and get myself all worked up again. Every time the doctor hurts me, he asks if I'm getting an epidural. Duh!