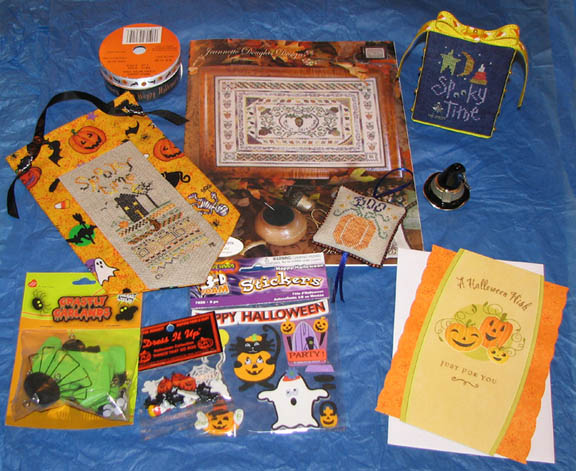 Back to it then! Monday Carol emailed me that she had received her Halloween exchange pieces for the SBEBB. Apparently she really liked them! I had so much fun doing this. I could have gone even more nuts, but I don't want these people to think I'm crazy. ;-)
I stitched
Spooky Time! pinkeep
,
Spooky Time wallhanging
, and
Boo Pumpkin ornament
. You can check the links for the specs. I also sent her a bunch of Halloween stuff (and also Jeannette Douglas' Acorn Stitches, very drool worthy). I love the little witch's hat trinket box I found on eBay. I considered getting one for myself. ;-)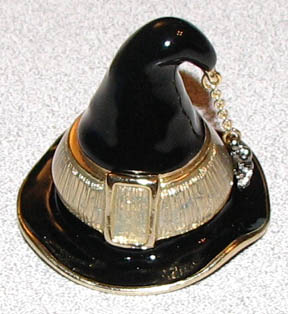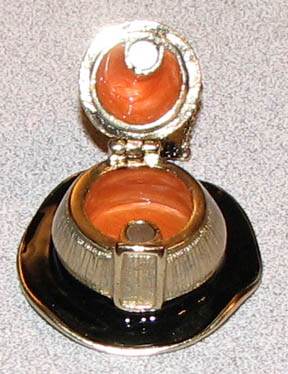 The pinkeep was my first, and it took me a while to figure out how to get it that thick. I glued several layers of batting together to get it thick enough that the ribbon would fit. I usually prefer to stitch pieces if I can, but I wound up having to glue the ribbon on. I carefully placed glue on the edge of the piece and put the ribbon on. I didn't want the glue to soak through the ribbon and get it all stiff, so I had to be careful not to use too much Aleene's.
I was very pleased at how everything turned out. I even sewed the wallhanging myself, rather than get my mom to do it (lol). It was a small one, so it was a good one for me to do.
On the way back from the hospital yesterday, we stopped by the LNS, and I picked up the Just Cross Stitch ornament issue. Yes, I was staggering and had hospital bracelets and bandages on, and I still went in! They were out of the preview issue, but the owner is going to get more in and send me a copy as a baby present. How sweet! I love looking through the magazine, but honestly I don't think there are any I'm going to stitch. I have a bunch of finished ornaments, and it's always difficult to display them for Christmas. I have glass ornaments for the tree.
I'm feeling OK: I actually slept most of the night. I thought for sure I'd hear the baby's heartbeat in my sleep after 11 hours of the fetal monitor yesterday. My back isn't hurting as badly, though I'm sure it will get worse during the day. Even though we got no baby yesterday, I was so happy to get home and have some supper. You could hear my stomach growling on the fetal monitor. I had two of Matt's wonderful grilled burgers, and he even let me have some M&Ms. (He brought a pound bag to the hospital, which I had requested as my reward for giving birth. I figured I deserved a little chocolate for the good effort.) So now Matt has to go back to work. My mom's here for two weeks, baby or no. It just means she'll have less time with her grandson, which is a bummer. At least she can help me get through this week, which will probably be kind of rough on my body. It was so good having both Matt and my mom there to help me through yesterday. I'm so lucky. I'd go on, but then I'd have to start crying.

Sci-fi: We've been watching Torchwood, a spin-off of Doctor Who. I must say, the last episode was rather adult. You'd never see that kind of thing on Doctor Who. I had to remind myself that I wasn't actually watching Doctor Who. All in all, I think I like the original much better, but I'll keep watching.