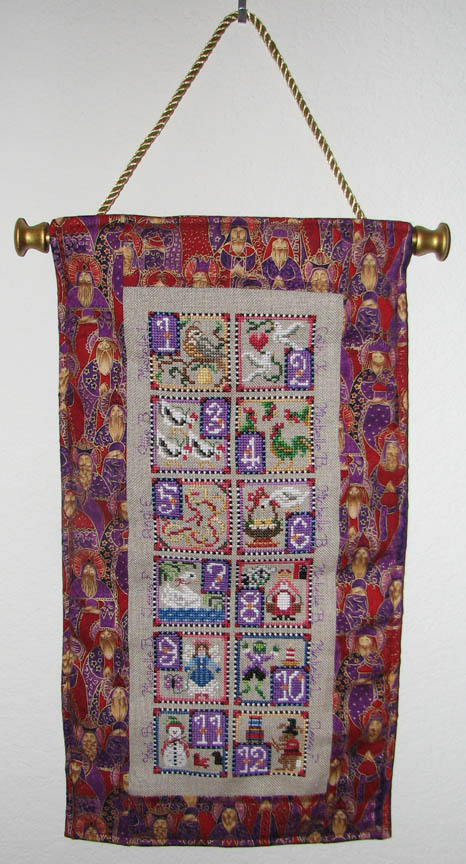 Two things to show off today... The first is the ornament I have been working on here and there. It's Holly Band ornament, a freebie from
Jean Farish's website
. It has three panels stitched together, and I did it on a white opalescent fabric I had leftover. I had seen a pic on someone's blog somewhere...and I thought it was the most beautiful ornament. I wish I'd had some better ribbon, but I wasn't up to waiting. Thus my quest for more ribbon and cording stash!
I also finished off the bellpull of my Just Nan round robin piece. My mom stitched the bellpull during one of her previous trips, and I needed Matt to work on the homemade bellpull hardware for me. My mom found the fabric in just the right color. It has wisemen on it, but the pattern isn't overwhelming. I may wind up hand quilting around the opening so it sits a little better.
And now onto TW's Angel Procession. I'm not keen to work on it right now, but I am keen to finish it!
Friend stuff: My best friend from high school called me last night, and I was thrilled! I had lost contact with her a few years ago. She went to our class reunion a week ago, so she had to update me. I couldn't go, of course, because I'm pregnant. I never really got along with my classmates (much angst during my teenage years), but it would have been nice to have seen how people turned out.