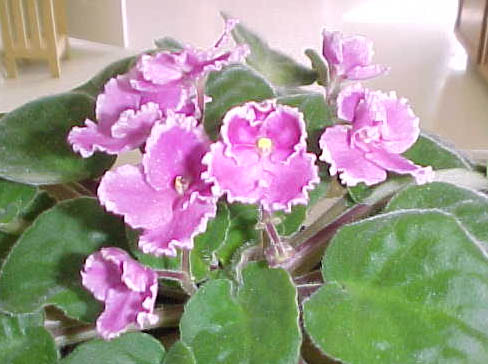 A lot of people have been setting goals, so maybe I should too. Here's my list for November:

HAED The Awakening--2 pages
Maggie the Messmaker--work on this UFO a bit
TrickORTreat--finish making it into a box, correct problems if I can
Gray Cat--stitch it
1 ornament to finish
Exchanges--ornament, HAED RR, and Just Nan RR
No new starts!

This seems doable. I've gotten a lot of smalls out of the way, but there are a few there still nagging me. But I think the bigger pieces are more important, and I need to keep a few smalls to work on when the BAPs are getting to be too much.

I've started working on The Awakening again, but I haven't been stitching as rabidly as usual this week.

The pic is of my African violets. A few others are blooming, but this one looked the best. Two of my orchids have just started opening (and all need repotting--ugh!).