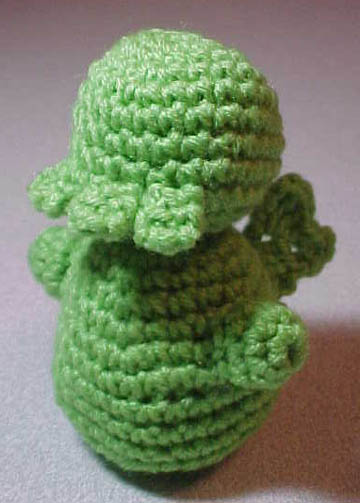 After seeing posts on Fudgey's blog, I just couldn't resist getting a few patterns. One is a Cthulhu doll, shown here sans eyes. I ordered some polymer clay, the colored kind, so I'll make him some eyes as soon as that comes in. Matt wants some for his friends, so I have three others in the works. I may also crochet some little Santa caps for them.
Hm, maybe a certain Hastur might like one as well. :-)
I also have the hedgehog pattern I mentioned earlier. I ordered some eyelash yarn, noses, and eyes for them.
My ornament exchange was mailed out yesterday. I'll show pics of that after Leah receives it. I'm also waiting on an overdue HAED round robin. I'm starting to get worried....
Convalescing:
I've been stitching a little on The Awakening, though it's hard to stitch with your feet up. Both feet are swelling right now for some reason, maybe because I'm not moving them much. I'm still working, but I think I may be getting sick. I had a slight fever last night and have had a headache since yesterday that Vicodin and ibuprofen aren't knocking out. I'm getting really tired of this. It seems I get sick at least once a month with something.