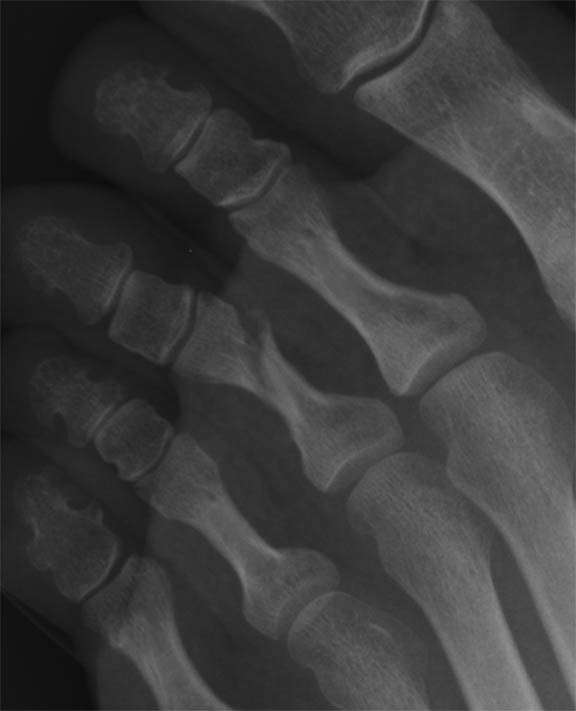 Yep, another holiday fiasco. I was mopping the kitchen, my bare foot slipped, and my toes connected with the door frame. My middle toe on my left foot was sticking out to the side, so I knew it was broken. Matt was upstairs vacuuming, and when he finally heard me and came downstairs, he said we should just tape it. Then he saw it and agreed we should head to the hospital.
Four hours later, we're home, and he's started cooking the turkey. Marty (Matt's mom's husband) was waiting on us, and now he has to wait three hours to eat. We got some food from McDonald's because neither of us had eaten (I'd had an English muffin at least for breakfast). Oh, and I hadn't yet taken a shower. I'm sure I looked lovely. Not going to shower for a while either.
The x-ray showed the toe is broken near the base, and it will need to be wrapped for 6-8 weeks. They gave me a CD with the x-ray. No driving or going in to work. At least I work at home most of the time.
At the hospital, I had to have a large wheelchair, not the regular kind for normal people. Matt tried to wheel me into the waiting room, and he just couldn't get it angled right. Since I'm PMSing, I took that to mean I wouldn't fit, and I just lost it. The foot didn't hurt nearly as bad as the mortification. I just kept crying. The doctor of course thought it was the pain and got me some Vicodin, which of course made me very drowsy. I dozed in the chair, but at least I wasn't crying.
Matt's going to be doing all the cooking, and everything else, for a while. He has the satisfaction of being right--he always tells me to put some shoes on when I'm doing chores, and of course I never do. I hate shoes!
I was planning on driving in to Austin tomorrow to see Cherylann, but that's not going to happen now. Very disappointing. I'll still get to game with the guys Saturday, at least.