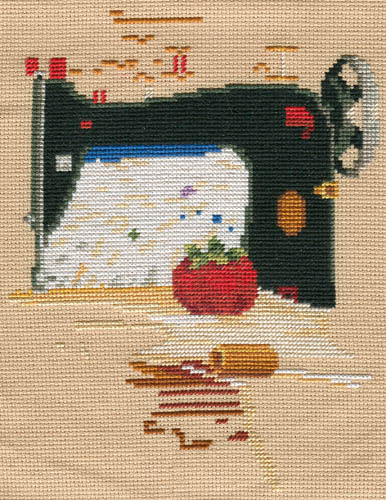 As promised, here's a scan of my progress on Maggie the Messmaker. I already had the sewing machine and most of the tomato done. I filled in some kitty belly and started working my way down. I know I didn't spend much time stitching this week, but this piece is just crawling. I can see why it's in the UFO pile.
So now I'll switch back to working on
The Awakening
for another week. I'm a little tired of that one too. I'm sure I'll get excited about it again; I usually go in cycles.
I think I've decided on what to send for the Christmas ornament exchange. I'll send it out as soon as my exchange partner is ready.
I worked a little on the finishing of my New Years exchange piece. It's a little more...challenging than I expected. Pics eventually.
Someone sniped me on the eBay auction of Just Nan Christmas charts. Oh well, I had set my upper limit on them and wouldn't have gone higher. It's just annoying getting sniped. Now I can just stitch from what I have on hand and not wait for new charts to come in. I may work on the round robin tomorrow.
I'm supposed to be getting my HAED RR piece in the mail Tuesday. Yay!