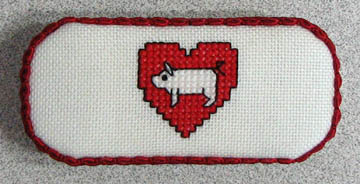 I stitched up this little tin for my mom. It's from 52 Pigs by Jeanette Crews Designs. Mom's weight-loss group back home collects pigs. She wanted me to make 10 others for her friends...but I declined. I'm not keen on repeats.
I'm still working on Just Nan's Spring in the Square. Pics when I'm done.
Thank you so much for the kind comments on my blog. I know how hard it is to keep up with blogs, much less leave comments. :-)
Baby...toddler? Logan got his first haircut the other day. Matt had to hold him down, so I hear. The hairdresser cut his hair way too short. My little cutie lost his few curls and looks like a little boy rather than a baby. Aw. He's getting the hang of walking without holding on, but he's still very wobbly.