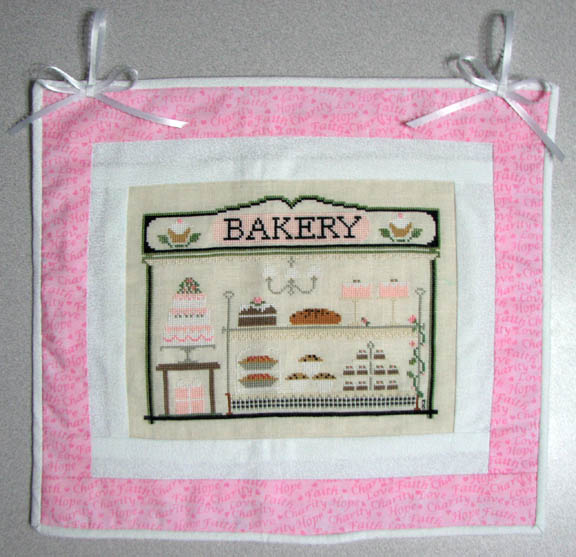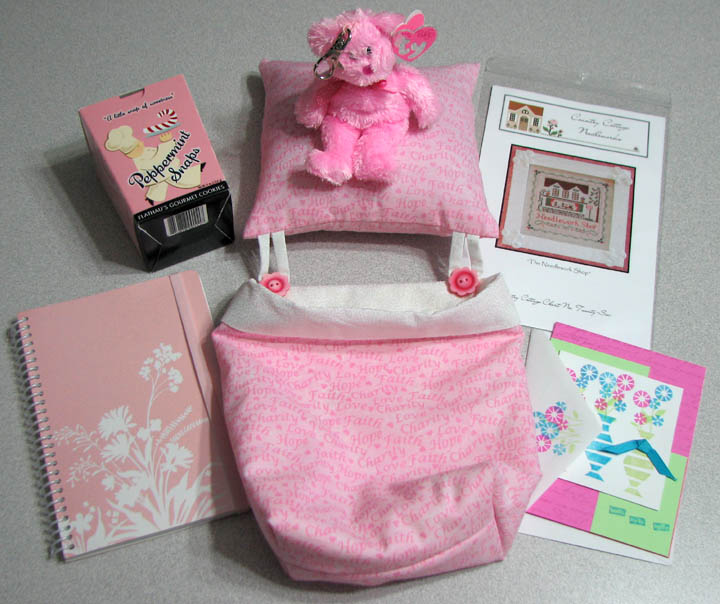 Cathy
emailed me that she received the Think Pink Exchange I sent to her. I stitched The Bakery from Country Cottage Needleworks that I made into a wall hanging. This is not something I would stitch for myself, but I think it's really cute and I like how it turned out. The finishing isn't perfect, of course, but I'm getting better! This was the first time I did a bias edging. Well, my mom did some of it. ;-) I had some problems with the blue marker ink that's supposed to disappear when you wet it. I kept wetting it, and it kept reappearing! I would have just dunked the whole thing, but I used Crescent Colors for the green border, and it's definitely not colorfast. I substituted a few other colors to make it more pink. I really should have done a floss toss because some of the colors got lost on the cream linen.
Oh, and Cathy also got one of my ort bags, other goodies, and another Country Cottage Needleworks chart that was on her wishlist.
If anyone would like the chart for The Bakery, please
email me
. It would be nice to trade something, but it's not necessary. Just please make sure it's something you really want to stitch!
(Gone)
I also have some Boxtops for Education up for grabs. I keep saving the things, and Logan won't need them for a while. (Gone)