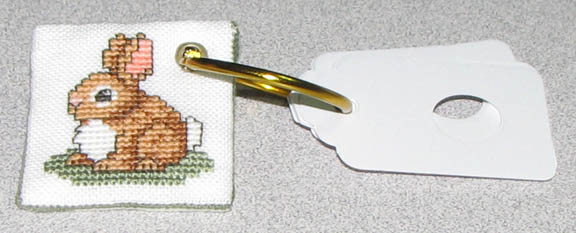 When is a happy dance not a happy dance? When you screw up the finishing at the last minute. Ugh! I checked the eyelet placement on the front, but I forgot to check it on the back. I noticed as I was cutting the hole through the back piece. How aggravating! Sorry to be so negative, but this kind of thing drives me nuts. Not enough to redo it, of course.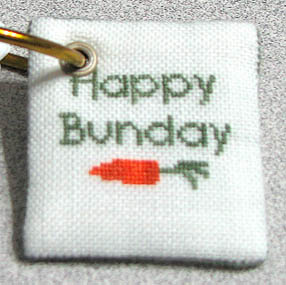 This piece is called Best Wishes Bunny by Debra Page. It's a freebie from
http://www.cross-stitching.com/
. I've wanted to stitch it for a while. I charted out the back and designed the carrot myself. I used some Crescent Colors and Weeks Dye Works, in addition to DMC.This was my floss ring tag for the
Monthly Finishing Challenge
. Ring tags are cute, but I doubt I'll do this finishing again.My mom and I stitched up some ort bags and are selling them, $15 plus postage.
Email me
if you're interested.