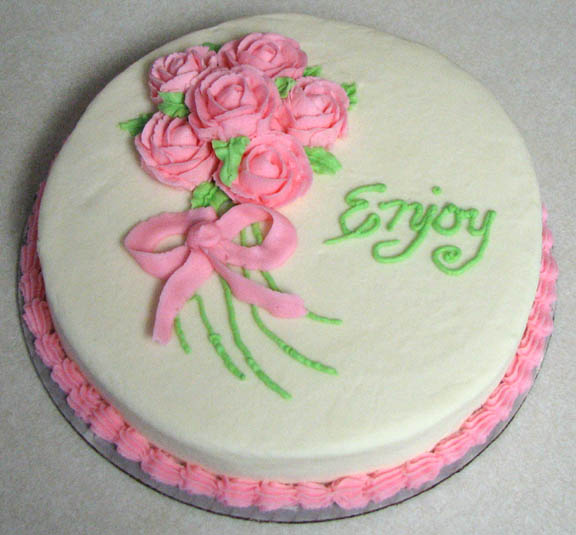 The big news: my mom bought me a Kitchen Aid Professional stand mixer! This thing is huge and awesome. I can't wait to try it out.
This is the cake I made at the last session of my Wilton I class. I've been just slapping stuff together in class (I'm slow--can you believe it?), but this one came out pretty good despite my hurrying. I brought it to work, and they really liked it (at least that's what they said). If you'd like to read my cake-baking adventure, check out my
cake page
.
Stitching:
I stitched up a Halloween fob, but I'm missing a pack of beads. They should be in soon. Have I mentioned I really like
Threadneedle Street
? I can buy small pieces of linen for a reasonable price. I did break down and get a few (more) items. It's so hard being on the wagon!
Baby:
Logan's getting bigger and bigger! We took him to a wedding, and he had a blast. He can be very whiny at times, but he was perfect the entire time. He didn't cry or scream at the wedding, though he did growl a bit (...protect us from evil...grrrrrrrr...). He was happy at the reception because he got to see everyone and ate everything we gave him (bread, cheese, mashed potatoes, even lemon). He yawned a lot since he had missed a few naps, but he didn't let that stop him. Oh, and his two top teeth are so close to popping. You can see them bulging his gums. He's been pooching out his lips lately; it's his new favorite thing. People at the wedding said he was so cute. One lady even said he was the cutest little boy she had ever seen. Of course I think so, but I'm highly biased. Once I get some pics from the wedding, I'll post one and you can judge for yourself. But don't disillusion this proud momma. :-)