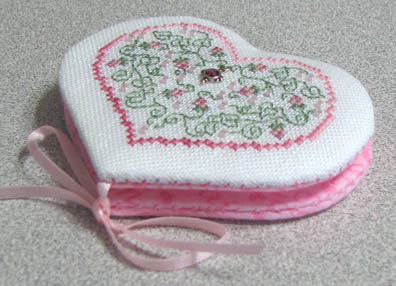 I turned my Covent Garden Rosebuds piece into a needlebook, which was this month's finishing technique on the
Monthly Finishing Challenge
. I didn't add any edging because I think my stitching is neat enough. And I think any cording would just get in the way. I have
more pics
if you're interested.
I got lots of housework done this weekend. My back didn't give me too many problems. I even got on the treadmill for a half hour this morning.
Reading:
I finished Mercedes Lackey's
Brightly Burning
yesterday. Now it's on to the Oathbound series. I haven't read these for 20 years. No wonder they seem almost new to me. They still grab me and make me want to spend all my time reading, just like they did when I was 18.