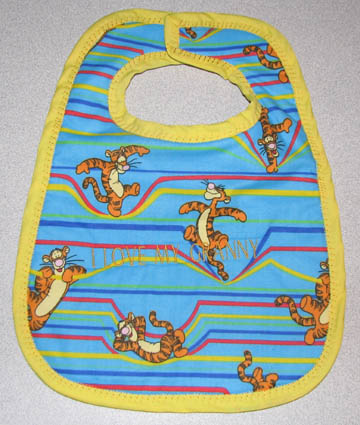 Mom made this cute bib on her fancy sewing machine. Note the embroidery that says, "I love my granny." Cajun grandmothers are called ... something sort of pronounced "muh-MAW." I guess she couldn't spell that one! I need to take a pic of the second one she did.

She went home Monday, and I miss her! And not just because she cleaned my kitchen and bathroom. ;-) I really need to figure out how to get her here when I go into labor in September/October. I need my Momma!

I didn't stitch much while she was here. Yesterday I did finish a tiny ladybug kit she wanted me to do for her friend. Of course I forgot to take a picture before I packaged it up to mail to Louisiana.

She also finished off my piece for the SBEBB Garden Exchange. She's such an amazing seamstress. I might have been able to do what she did, but it wouldn't have looked as good, and it would have taken me 10 times as long. I hope the recipient likes it. I plan to mail it tomorrow.

Sadly, I think I'm going to have to withdraw from the SBEBB. I was so thrilled to become a member (highly selective), and then I got pregnant. I just don't think I'll have the time once the baby comes. I'm also not going to do any round robins or exchanges for a while, after I finish the HAED RR (just two pieces left to stitch on). I'm sure everyone runs into these life changes once in a while.

Gaming: City of Heroes came out with an auction house. Of course I'm addicted now, checking my auctions day and night. Shades of World of Warcraft! Argh!