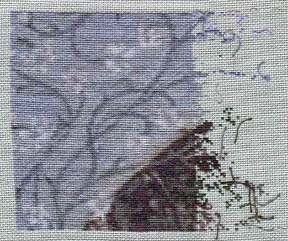 I finished page 1! The piece is a HAED, and the original art was by Matthew Stewart. (I don't know why Blogger makes my scanned images look so bad. Click the pic to get to a better one.)
This page was mostly border, but it was nice to stitch on something different. There was a ton of confetti, so it wasn't as easy (or quick) as I thought it would be.
I need to get working on my Garden Exchange piece now! It's due at the end of this month. I also have Wanda's RR to stitch on.
Pregnancy:
I opted not to get the amnio because I'm so terrified of it. We'll just have to live with the consequences. I also have swollen feet all the time, and my lower back hurts. I can hardly get around. And I'm only at 20 weeks! Ugh.