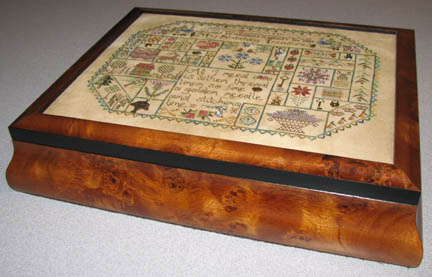 I finished placing My Stitching Treasures in the box made for it. I actually managed it myself. I cut a piece of foam core, glued batting to it, and then pinned and laced the piece to the foam core. I then placed a piece of matboard behind it and used my framing gun to secure it. I didn't back it with paper because it looks pretty neat as is, and paper is somewhat fragile and could get torn.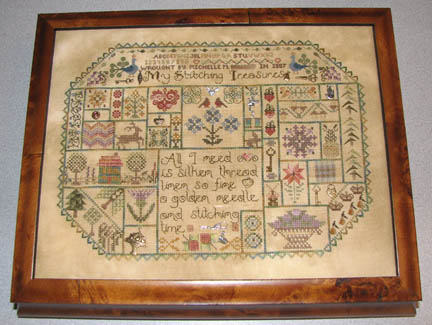 I'm pretty satisfied with it, though it's not perfect. I wish there were framing classes so I could learn the proper way to do these things.
I haven't figured out where I'm going to put the box. There aren't that many flat surfaces available for display items. And then there's the concern about dust since I don't use glass. Hm. I'd hate to just stick it in the closet.
I've been stitching on Eternal Promise, though it's slow going. My brain has turned to finishing off stitched pieces, so I may work on a few of those.
Pregnancy:
I'm currently debating about whether to get an amniocentesis done. Logically I think we should, but I am absolutely terrified at the thought of it. I have a phobia about certain medical things (IVs in the hands being one). My dad was shot when I was a kid, and I've managed to get over my fear of hospitals, but there are still a few things lingering. But then who wants to get stuck in the gut with a needle?