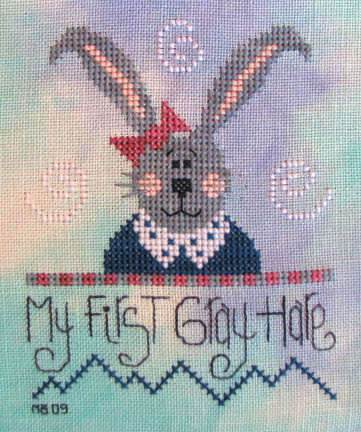 Now that's a heading to make you stop and pause!
I managed to frog the hot pink and replace it with light pink, and I personally like it better this way. I'm not sure the hand-dyed linen is perfect for this piece, but it was leftover and I like the effect. I rarely used hand-dyeds just because I never know how it's going to turn out, even with a preview picture.
This chart (by 4 My Boys) was in a pile
BeckySC
sent me a while back when she was cleaning out her stash. Thanks, Becky! I thought this one was cute because Matt's forever plucking my gray hairs. I had only a few when we met, but after the kid, I just seemed to get them a lot, more than he can keep up with. My mom's family grays late, so at almost 40 I'm thinking a handful isn't too bad. Poor Matt was all gray in his 20s. We'll see what Logan gets. Maybe our genes will balance each other out, though Matt's seem dominant at the moment.
Matt also finds it funny that I'll have one long hair that's brown, then gray, then brown, etc. I guess it's my stress levels.

If anyone wants this chart, please leave a comment saying so and your email address.

Sick again: We got a call from daycare yesterday that Logan had a fever. He's coughing again too. Matt's taking him to the doctor this morning. Poor boy. It seems that daycare or the weather is keeping him constantly sick.