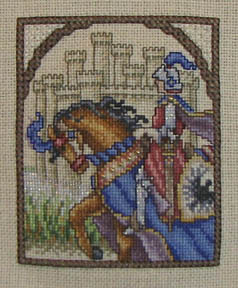 I finished Medieval Miniature today, but I'm missing the iris beads for the flowers. I'll order them Monday. I didn't think I'd finish it this soon. I spent most of the week working on Skeleton Crew because I was a little tired of working over one. I don't normally mind, but there were a lot of color changes, which is a pain.

And just let me say that if I ever thought frogging over-two stitches was hard, frogging over-one stitches is 10 times as bad. And even worse than that is frogging the backstitching. The floss just shreds. Fortunately I only had a few occurrences of that. The piece is about 2.5" x 3", in case you're wondering. It's not called "miniature" for nothing!

Next week is spring break. Matt has the whole week off from school, but I only get the Thursday and Friday off work. It's better than nothing. I'm looking forward to having two days to do whatever I want to do--probably stitching. And then the following week my mom is going to be out of town, and with Matt busy with school, that means I'll have the bulk of taking care of Logan. He's such a cutie, but I get so tired running after him.

Diet: I've decided that I'm going to try the shots--Byetta. From what I've read online, it can help curb your appetite since your blood sugar is no longer out of whack. If I can control my appetite, I can do the rest. I've done it before. Shots give me the shivers, but it's either that or surgery at this point.