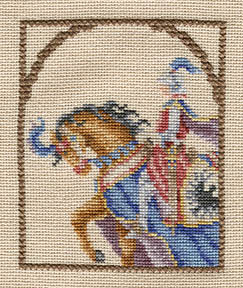 I'm making good progress on Medieval Miniature. As you can see, I've got the knight and horse done. The castle is in half stitches, and I'll be working on that next. I have to order one of the beads.
I've gotten so many lovely comments on my faeries. Thank you! I get a lot of comments on how fast I stitch. I really don't have much stitching time available now that I have a toddler, at least not in comparison to how it used to be. I think the two-handed method helps (one hand above the stitching and one hand below); I use it when I can use my stand. I also stitch while I watch TV. It's really hard for me to watch TV without stitching nowadays.
I've been having the urge to start another TW. I plan to stitch all the faeries eventually, but I think I want to do something else next. I'm still thinking. Skeleton Crew is still on the schedule, though. Candidates are Lady of Shalott, The Enchanter, Dragon Ride, and Fantasy Triptych. What do you think?
This weekend Mom and I ran around town. We actually have a quilt shop in Bastrop now! They didn't have a great selection, but they do offer classes. There wasn't one I could take right now, but I put my name on the list for later. I'd like to take a few classes to teach me the right way to sew. I've only stitched a few things so far, so I know a few basics. I know there's a lot of basic info I don't know yet.
Diet:
I've managed to stay on my diet all week, which is a major accomplishment for me. I'm basically trying to do the diabetic exchange. I've tried something new--writing down what I'm going to eat the following day. That's worked pretty well so far. The only hickup was when I planned to eat out and we wound up getting fast food. I went a little over but not nearly like what I normally would have.