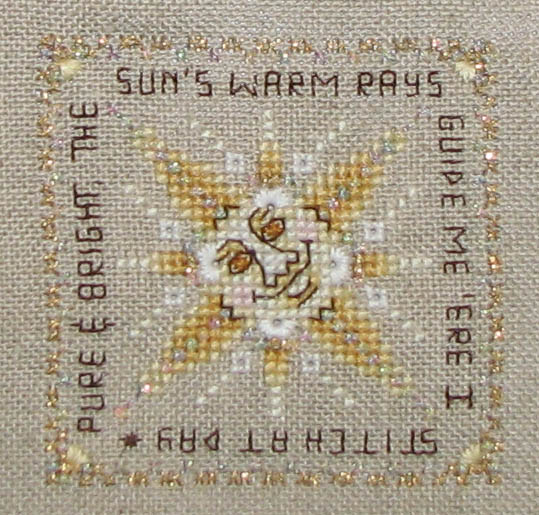 I finished this one Saturday and didn't get around to taking pictures. It's Teresa Wentzler's Celestial Sun. I'll work on the other side of the fob, a moon by Dragon Dreams. I think I'm in a slump. I haven't been spending every spare moment on stitching (just most of them).
I'm working on the finishing of my Magic/Fantasy Exchange piece. I only have a few things left to do. It didn't come out perfectly, but I guess it's good enough (grr).
I need to pull out my next focus piece, either Rose Quilt or Maggie. I'm guessing it will be Rose Quilt since I haven't worked on it in a while. I think I'm not eager to work on it because it's so large and cumbersome, and because the border doesn't give me much area to tuck my tails in.
Cake:
I signed up for two cake decorating classes in July. I used some "found money." I can't in good conscience use household money right now.
Diet:
Yes, I'm back on the diet (grumble). I'm going to try journaling a bit and watching my caloric intake since the South Beach approach is aggravating me. I'm still going to stay away from bad carbs as much as possible (can you say CAKE?). Oh, I did win the pot of quarters last night when my name was drawn--all $8! It went into Logan's bank.