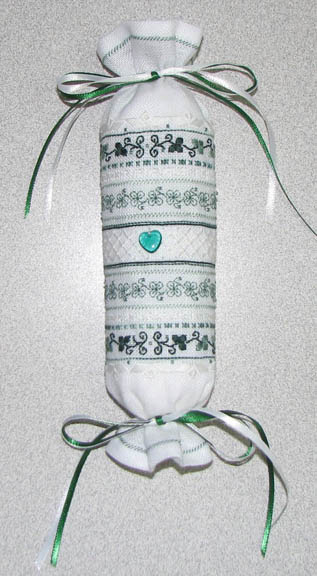 I finished off the needleroll today. I found some green ribbon yesterday at Hobby Lobby that matches pretty well. I'm so glad I don't have to order any off eBay. I also picked up some more ribbon, trim, and two more ribbon spool cases. DMC was also on sale (I yearn for the days when that meant 5 for $1, not 4 for $1). I bought a bunch of stuff because who knows when I'll get into the city again.
So this makes three of the Sweetheart Tree needlerolls I've done so far. I think the next one will be Remembrance Rose (a little later) because I have all the materials needed.
Rita and Kim won the pattern for the needleroll. I wound up with two. Ladies, please email me at
charmingtails@hotmail.com
.
I have three blocks left on Damier, and then I'll able to show pics of that one too.
I've been trying to come up with a needleroll I want to stitch for the
Monthly Finishing Challenge
, but I just can't find anything I'm in the mood to stitch. I'll keep looking. Then I should really pull out one of my large projects to stitch on.