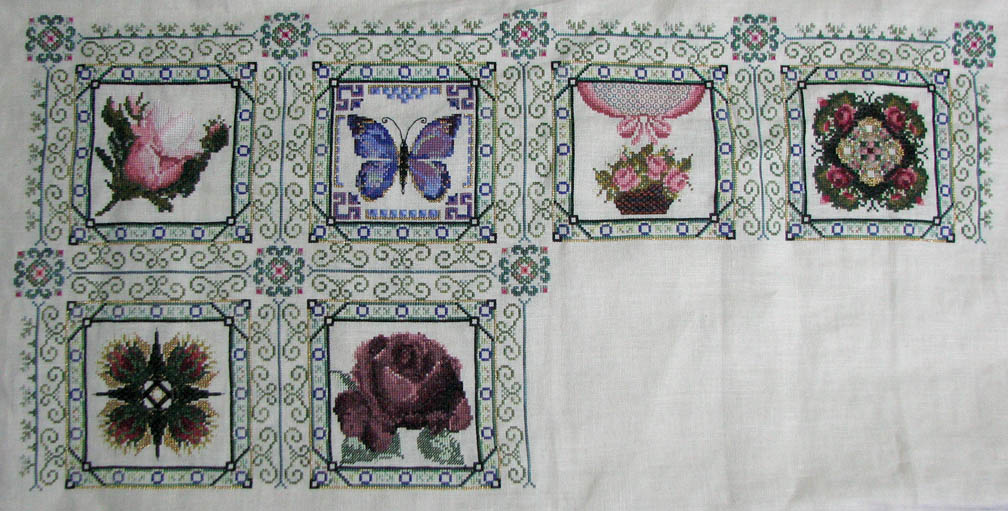 Here's another installment. I'm not sure I'll finish this piece this year. It's so massive, and my progress is rather slow. I have so many things I want to stitch right now. I may need to put aside HAED's Eternal Promise this year so I can concentrate on this piece. I still like to work on smaller pieces a bit to keep my interest up.

Speaking of, I started Sweetheart Tree's Shamrock needleroll. It's so cute. The needlerolls all have a similar pattern, so it's a good thing I'm not bored with them! I'm thinking I might buy a Longaberger basket eventually to display them all. I think they're worthy of the expense.

New nanny: I work at home but need a nanny to take care of Logan during the day. Matt and I are both leery of daycare. We hired someone new since our last nanny's boyfriend moved out of state and she had to quit to take care of her kids. I like the new person. I hope she's more reliable than the last one!

Vacation: Matt and I are planning a weekend getaway in two weeks. We haven't gone anywhere in a long time. Now that Mom's moved in, she can take care of Logan while we go off to San Antonio. Matt's booked a jacuzzi suite, and I want to go to Sea World. I think we'll have fun, but I'm sure I'll miss Logan terribly. He gets cranky when he's tired (which is often), but he's otherwise such a smiley, happy baby.