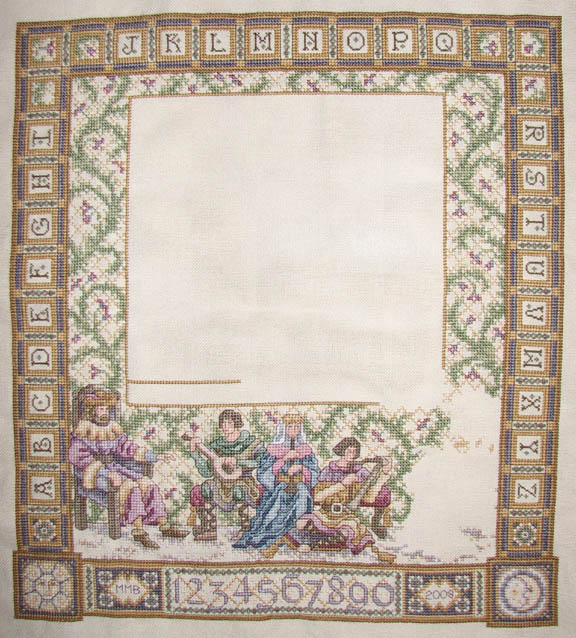 Here's the latest on Castle Sampler. I finished up the trio of musicians in the middle. Now onto the lady. I think I've enjoyed the border on this piece the most. I can take it anywhere since it's on my small Qsnaps and work on it whenever I get a minute. I'm looking forward to working on the inner border. Not so much the castle because I know that will be mostly grays.
Also, they seriously underestimated the floss needed for this kit. I've run out of several colors. While I don't scrimp with floss, I'm also not wasteful with it either.
Matt picked up some framed pieces from the sort-of-LNS yesterday. Below are pictures of three petit point cats I stitched last year (40 count). I haven't figured out where to put them yet. Since Blogger's acting up again, here's a link to the
big pic
.
I also got the L&L Angel of Summer I finished last year framed for my mom for Christmas. I won't see her until January, so she'll get it then.
Remember that the Chatelaine Advent Calendar has begun! Go to the
Support Group
and join to get free patterns or other goodies Martina posts.
Christmas:
I've gotten most of my Christmas shopping done online. There are just a few things I still need, so I'm venturing out this morning while Matt watches Logan.
Baby:
We met the prospective au pere Wednesday. I'm still waiting on references from her before we offer her the job. She told me some things about one of the daycare places she worked for in town. The babies spend most of their time in bouncers and have one person for four children. Logan would be so unhappy and scream all day. I really hope I can avoid that.
Neopets:
It's the Month of Celebrating, so that means the
advent calendar
is open.