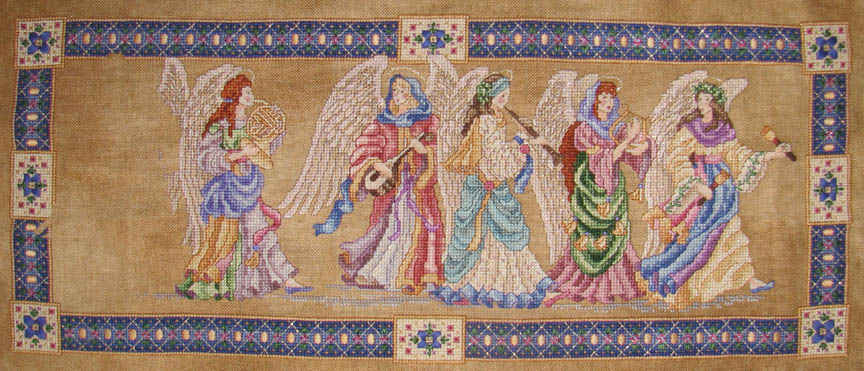 Yes, the angel has a head! And an extra wing apparently.
It doesn't look like I did much, but those wings are a pain. I think 32 count is too small for this piece. Plus, for 1/4 stitch blocks, I make one a 3/4 stitch and one a 1/4 stitch. That makes things very bulky. I probably should have made both 1/4 stitches. Too late now!
I'm content with my piecemeal progress. It's better than no progress, which is what I've had for the last few years.
I'm going to work on the next page of The Awakening. I still have a lot to catch up on Chatelaine's Rose Quilt, but I've fallen out of love with the piece. It's just not as pretty as I had hoped. That'll teach me to stitch a mystery. I'll stitch the piece later and may fall back in love with it, who knows.
RAK:
Becky sent me another RAK since the fudge melted--three skeins of lovely Gentle Arts Simply Shaker threads. She didn't have to do that, but I definitely needed the lift!
Baby:
The doctor depressed me yesterday. He said because of the gestational diabetes and the fact that this is my first child, I have a 50-50 chance of having a C-section. He also said that I had gained too much weight. Maybe he could have told me that after the first month and not into the third trimester! I don't much care for the doctor; he's rather cold. But it's too late to change doctors now. My fasting blood sugar has been high, so I may have to take insulin. He also wants me to exercise, but I absolutely cannot. My back kills me, and my feet burn from the swelling. So I'm feeling helpless, which is not a good feeling.