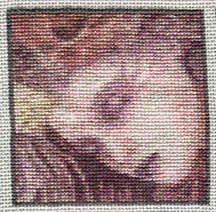 Here's my square for Leigh's Ian Daniels round robin. It's part of Dream Sleep.
I've been thinking about a new HAED start, like I don't have enough WIPs. I could start Pearl Princess. It's been kitted up for a while now.
Mom's visiting this weekend, and she got to see the pregnancy belly for the first time--bigger than she thought for only 4 pounds.